Born January 5th 2013
The jewel in the kennel of Duritzan – Tuva – refuses to accept that she no longer is a young dog. She likes gentlemen and she likes puppies. So when she realized that mom had decided that there would be no more litters for her she invented her own way of handling the situation. She had a silent heat. As she always had shown when she was in heat she fooled mom completely. Obviously she had informed the gentlemen about her plan as they did not show any extra interest in her. If so mom could notice… No they hid their secret well. Until her belly was very round.
Mom just had to accept fait accompli – Tuva was pregnant, 9 years 4 months young or old as mom thinks…  As a real lady she wanted a Västgötaspets even if that reduced her choice to the gentlemen in the kennel.
 Only one week after the ultrasound showed that this was no fake pregnancy it was time for the puppies to pop out. Four alert fellows explored the outside of Tuva's tummy early in the morning of January 5th.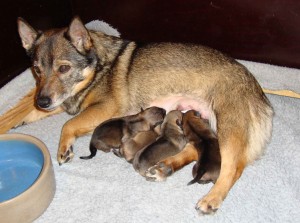 As the litter was not planned or even wanted, but the result of a thief mating arranged by Tuva, the theme for the litter had to be thieves. Finding good Swedish thief names for the boys was easy: Bildsköne Bengtsson, Lasse-Maja (famous Swedish thieves) and Arsène Lupin (as a compliment to France and Elle who stayed with us last spring). The bitch was more difficult so a female, but at last I set my mind on Sjörövar-Jenny – a woman from the Threepenny Opera. Not a violent person, that was important, not a Swede but I like Brecht and I like the Threepenny Opera. And the song of Ginny Jenny/Low-Dive Jenny/Jenny Diver (different names for her in English) is magnificent!

As the puppies are both spirited and fine not even mom can bear a grudge for long in spite of Tuva's treachery. Tuva loves her puppies and cares for them as if nothing else existed.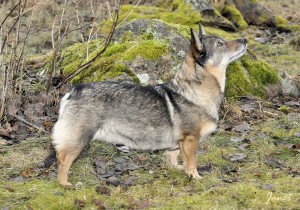 The first week
Not much exciting is happening. They eat, sleep and grow.
A couple of pictures of course …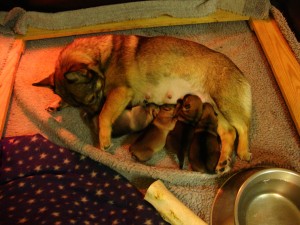 Tuva is looking after her babies.
From left: Lasse-Maja, Sjörövar-Jenny, Arsène Lupin and Bildsköne Bengtsson.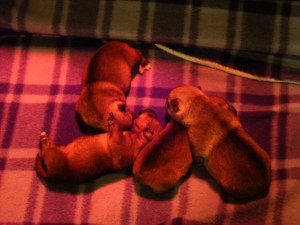 Sleeping in the light and warmth of the piggy-lamp.
The puppies are now two weeks.
Tuva jumped the children's gates already last week. I had closed them to give her and the puppies some peace the first weeks. The pregnancy and operation have not lessened her agility.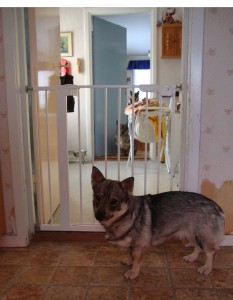 The other dogs are sometimes allowed to get close to the small ones.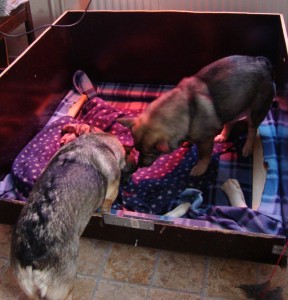 The pups have opened their eyes and are moving more in the box. Changing ways of sleeping too 🙂 Click the pictures to see them in full size.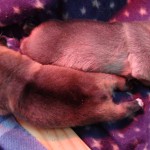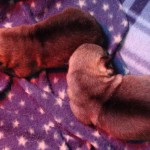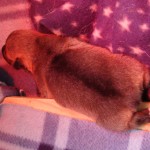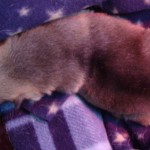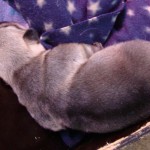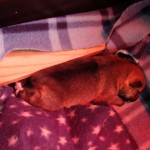 Sjörövar-Jenny doesn't like the weighing procedure so she tries to get out of the box on the scale. The others are more compliant – at least today…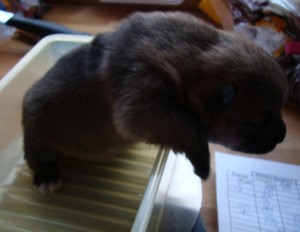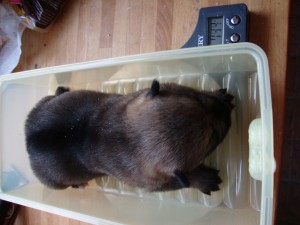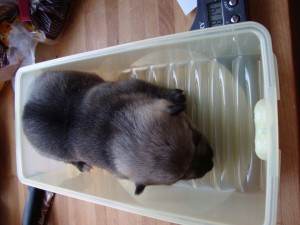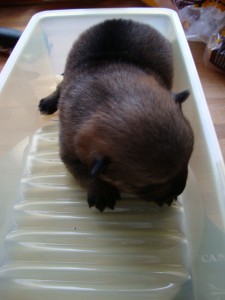 And they are growing.
Weight of today:
Bildsköne Bengtsson          740 g
Lasse-Maja                         810 g
Arsène Lupin                      610 g
Sjörövar-Jenny                    630 g
The pups are now three weeks old
All of them are up on their legs. During the week I pared their nails – not easy as they want to explore things when they are awake. And they wake up when I pick them up. Small differences in character can be noticed but they will be more clear in the weeks to come.
Also they have been dewormed the first time. They were so pretty with pink Welpan around their mouths :).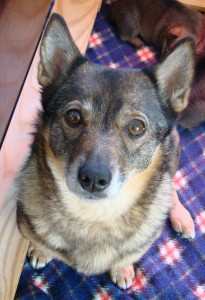 Tuva is inspecting what Mom is doing.
The stubby pair stick together.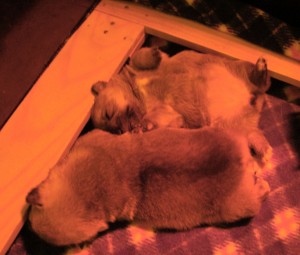 (The pictures have a bit strange colours due to the piggy lamp.)

      Arsène Lupin
Lasse-Maja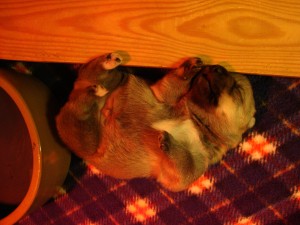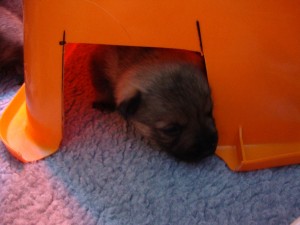 Peekaboo from the cabin.
Sometimes the income comes from the back at the same time as the expenses are taken care of in the front.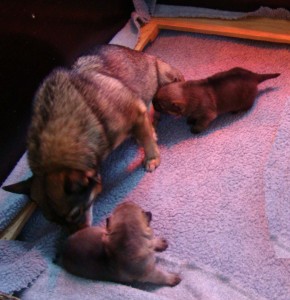 Weight of today:
Bildsköne Bengtsson         1100 g
Lasse-Maja                         1160 g
Arsène Lupin                       940 g
Sjörövar-Jenny                     910 g
The pups are now four weeks old
Now they move much out of the litter box. I changed to a new beautiful litter box given to me by Schöns hundar.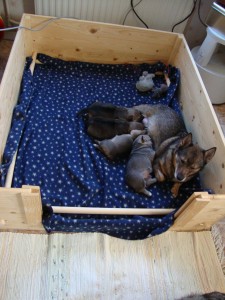 The pups have realized that it is better to get out to pee on the carpet I put in front of their box. That keeps the box dry and nice to sleep in. 🙂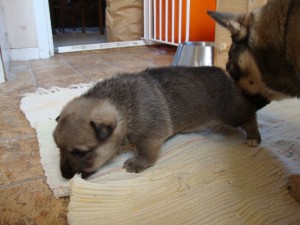 They are getting teeth too and they like to "kill" toys and their blanket. If they bite too hard in my fingers I whine a little. They stop to think for a minute then they continue with more care. Bengtsson is now the most adventurous of them. Lasse-Maja is a bit lazy but he has had more weight to carry around. Arsène and Jenny are between in temperament.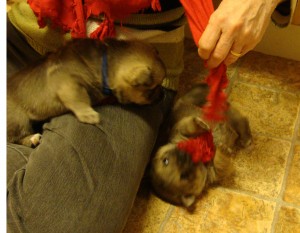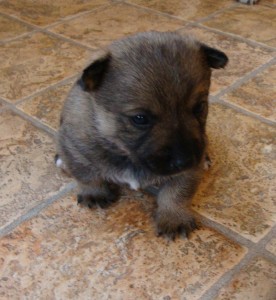 They have really tough wrestling-matches sometimes and then their collars get lost so I have to put them on again.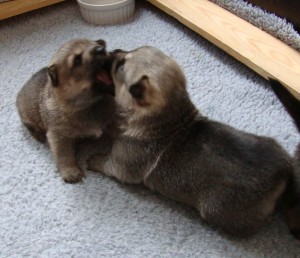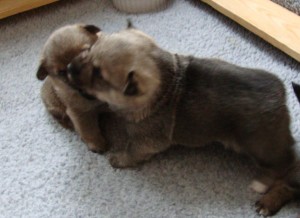 Pap was not their favorite food so I tried crème fraiche instead and that they ate happily. Beside the puppy whining they now can bark and howl.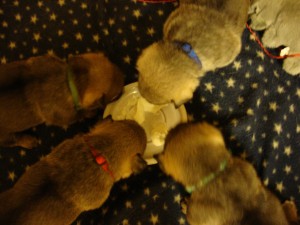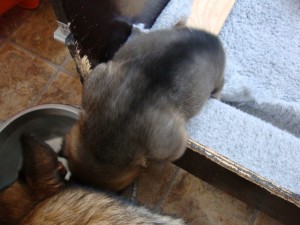 What is mum doing out there?
   Four social puppies…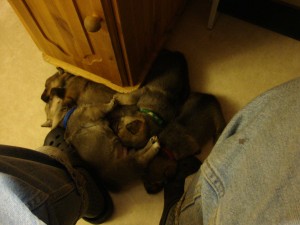 Weight of today:
Bildsköne Bengtsson          1470 g
Lasse-Maja                         1400 g
Arsène Lupin                      1280 g
Sjörövar-Jenny                    1270 g
The pups are now five weeks old
The pups have decided that if they are to be confined to one room so am I – the same room as they. I can't give them food and take the others out while the puppies eat.
They have started to spend a short time every day outdoors in the snow and the cold. They like the snow but they think it is unnecessary cold. But as soon as the grown are let out I have trouble stopping the pups from running out too.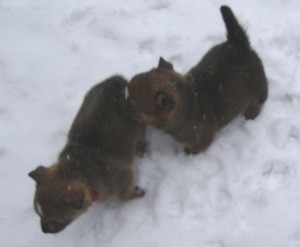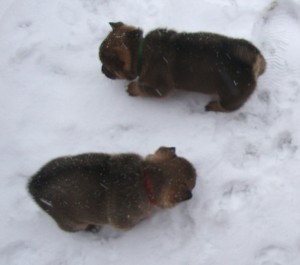 Once I couldn't find Jenny when I took them inside again. She was invisible so I called her and she answered! She had walked a couple of steps down a staircase to the basement and didn't know how to get up again.
When it is dark out I do not want the puppies out – they can be hard enough to find. Now all of them have full speed even in the snow and they are learning how to handle a staircase.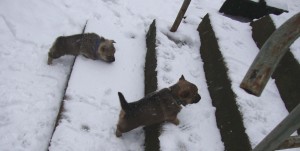 We have been to the vet to give them microchips and to get blood samples from the pups, Tuva and HD. Ville will leave a blood sample next week. After that we will have to wait for "the verdict" about who the father is. It wasn't easy to get blood from the small ones. They did not like the needle. And not to stay put during the sample taking – their legs were full of running and they wanted to explore everything.
This week I have served a mix of soft puppy food, minced meat and crème fraiche. The last days they also have had dry puppy food and they liked that both for eating and for playing.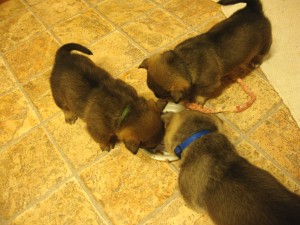 The boys are most interested in food. Jenny wants mummy to play with her.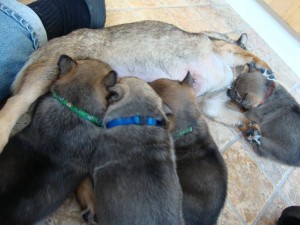 Weight of today:
Bildsköne Bengtsson          1900 g
Lasse-Maja                         1750 g
Arsène Lupin                      1670 g
Sjörövar-Jenny                    1480 g
The pups are now seven weeks old
They spent more time outdoors every day and they have already started to scratch when they have relieved themselves 🙂
We have had visitors too, both with two and with four legs. The puppies enjoyed that.
At first Birgitta Schön and her daughter Nina came with their six dogs. Most of the pictures from these two weeks are from Nina's camera.
A number of dogs – nine adults and five pups – greet each other.
Bengtsson in Birgitta's arms.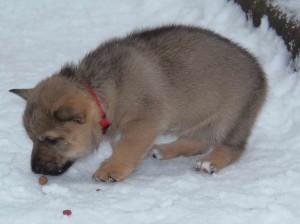 Jenny wonders if that is eatable.
Sometimes you have to fuel up!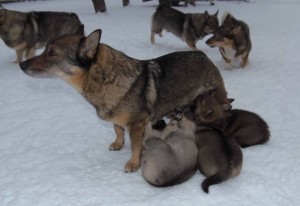 During the playing they had to get a refill on the go under Illona's supervision.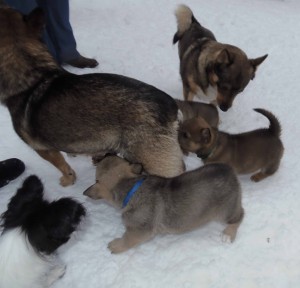 After that they were tired and slept while we had a cup of coffee.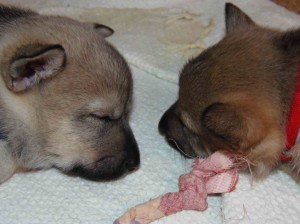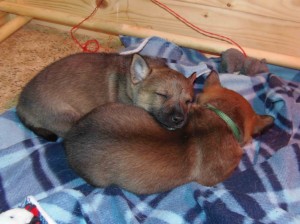 Then my middle daughter arrived with her two kids and their new dog. Here with Jenny in her arms.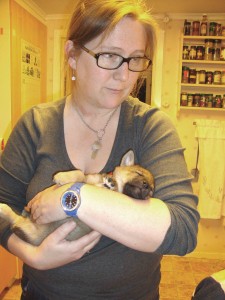 Matilda often sat on the floor with a pup on her lap.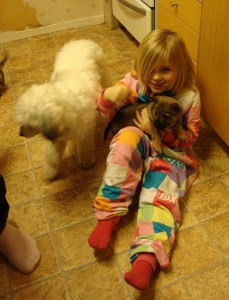 They are beginning to show more of their characters. Bengtsson has a stong "engine" and seems to be able to go on infinitely. He is also very sociable.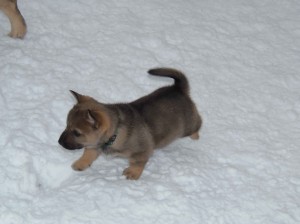 Lasse-Maja takes his own way and even if he knowes how to look after himself he is  pretty tranquil.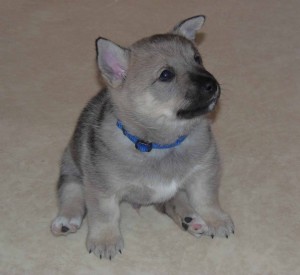 Arsène is an active boy in good spirits.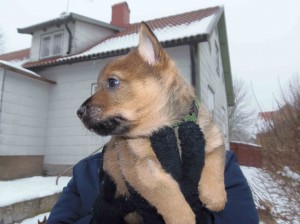 Jenny is a bit of quicksilver who loves to be cuddled.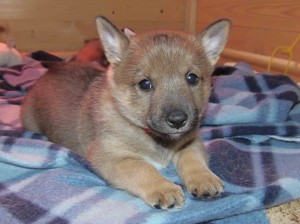 Here the boys share a chewing bone.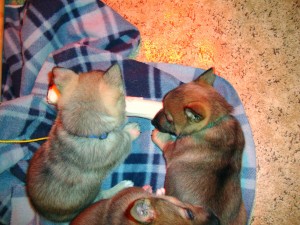 A quick view over the enterence path before they start to climb the stairs.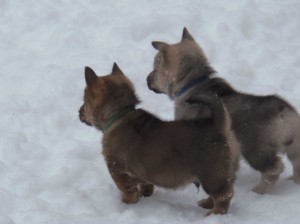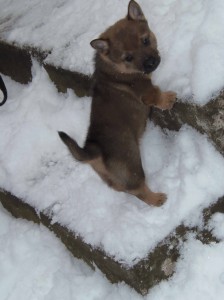 They now prefer the dry food to stay dry.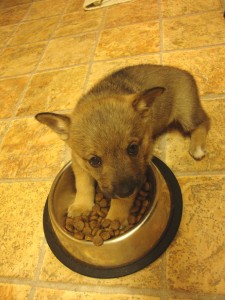 Their weight has passed 2,2 kg for Jenny who is the smallest and 2,6 kg for the boys.
Next week I hope to get to know who is the father of my small thieves 🙂
The pups are now eight weeks old
They have been vaccinated and used time to cuddle with the staff at the clinic. Particularly with our vet who Jenny has bonded with…
Normally they would be getting ready to move, but as I am still waiting for knowledge about who is the father of which I will wait to declare them ready to sell. I want to have all the papers in order first.
I the lovely weather both the dogs and I like to be outside. But the puppies have discovered how to get out of the grounds so I made a playpen in the snow, stabilized with different objects among other things an old sofa  :).

Small pictures. Click on them to get full size.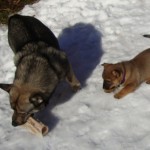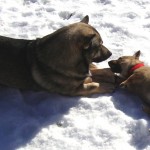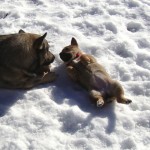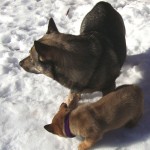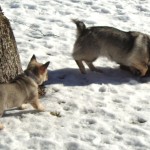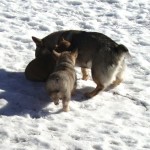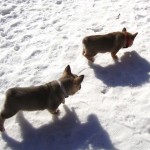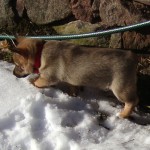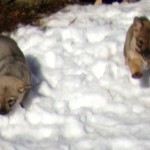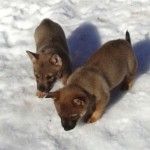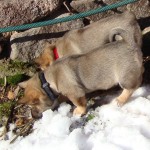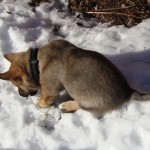 The pups are now nine weeks old
They have developed obvious personalities. This update will be a presentation of their characteristics.
 Bengtsson: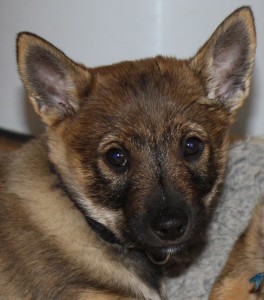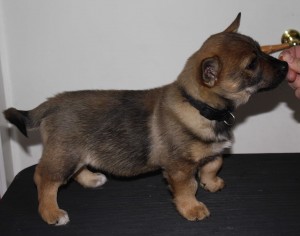 Is a sociable fellow who comes up to me and looks demandingly at me. If I don't react he will bark to get my attention. He can hang in my jeans until I tell him they are mine. Then he will release me.
 Lasse-Maja: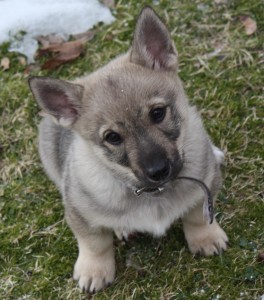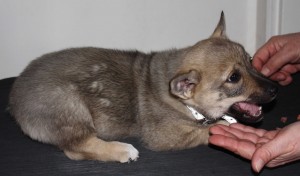 Is a little philosopher. He can leave the others to just sit and look around. When he wants to play with one of them he goes for it at high speed. Lasse-Maja loves to sit on the lap cuddling. He is the only grey one. All the others are red/reddish.
Arsène: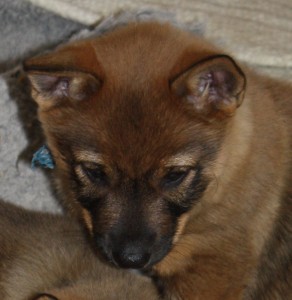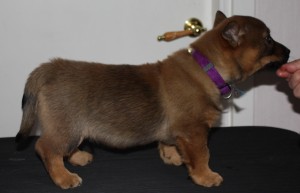 Is a big boy who resembles Bengtsson a bit but he is not that pushy. He has a good balance between liveliness and calm.
 Jenny: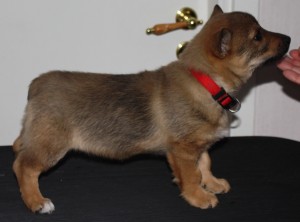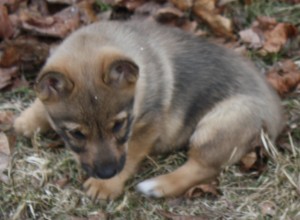 Is becoming quite a little shrew. If she wants to play she will charge like a torpedo. And she is not afraid of a wrestling match with Vaira either. I think Jenny will be a rather small bitch.
All the puppies are good at coming when I call them. They understand when I tell them they are not allowed to do something. They know when we are going inside and expect a treat when they pass the threshold. They get SO happy when they are allowed out. And they love it when I sit on the floor playing with them.