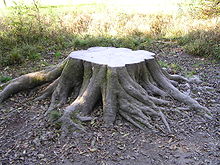 DOB  May 30th  2017
Dam: Jeanne d'Arc-Joyaux van de Kloostertuin       Sire: Jaxonville X-Tempore Vaan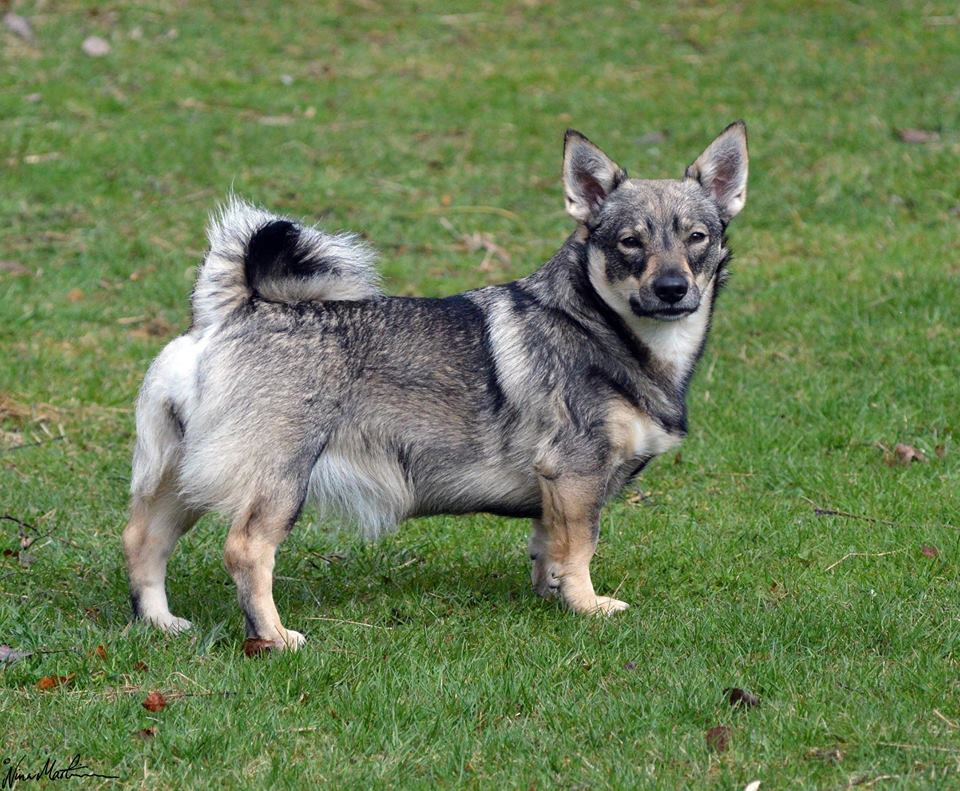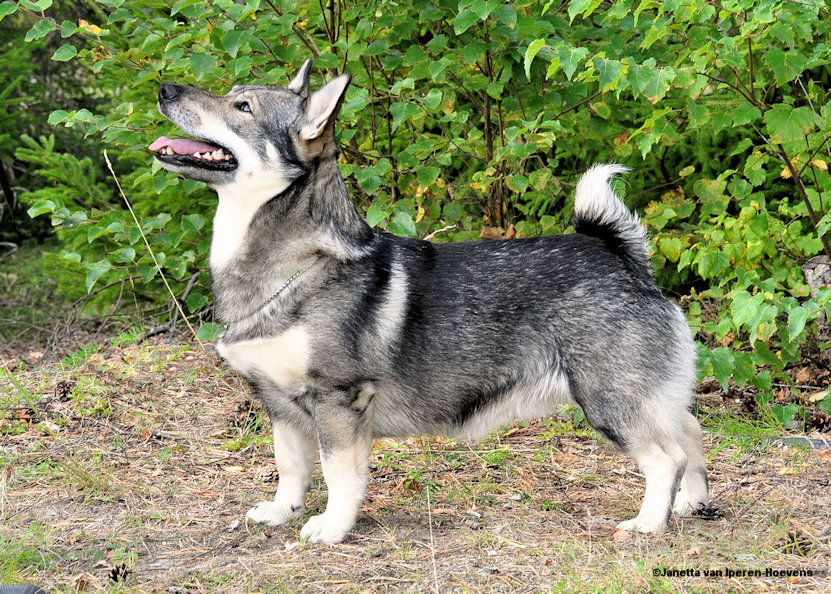 When Jeanne decided to get in heat much earlier than I expected I had to adapt my plans quickly. I had to find a suitable male. After discussing the issue with Janet (Jeanne's breeder) I decided to take her advice and turned to Ann-Christine Falk asking if she would allow me to use her Stubbe (Stub – a bob tail is in Swedish "stubbsvans"). She asked a number of questions and checked the facts of my bitch. Then she accepted Jeanne. 
When I arrived both dogs knew what they wanted. It didn't take long until they mated. After one day of rest there was another mating and then we went back home. Soon Jeanne showed that her life had changed – her attitude was different and she showed a new dignity. 
May 2nd her pregnancy was clearly visible.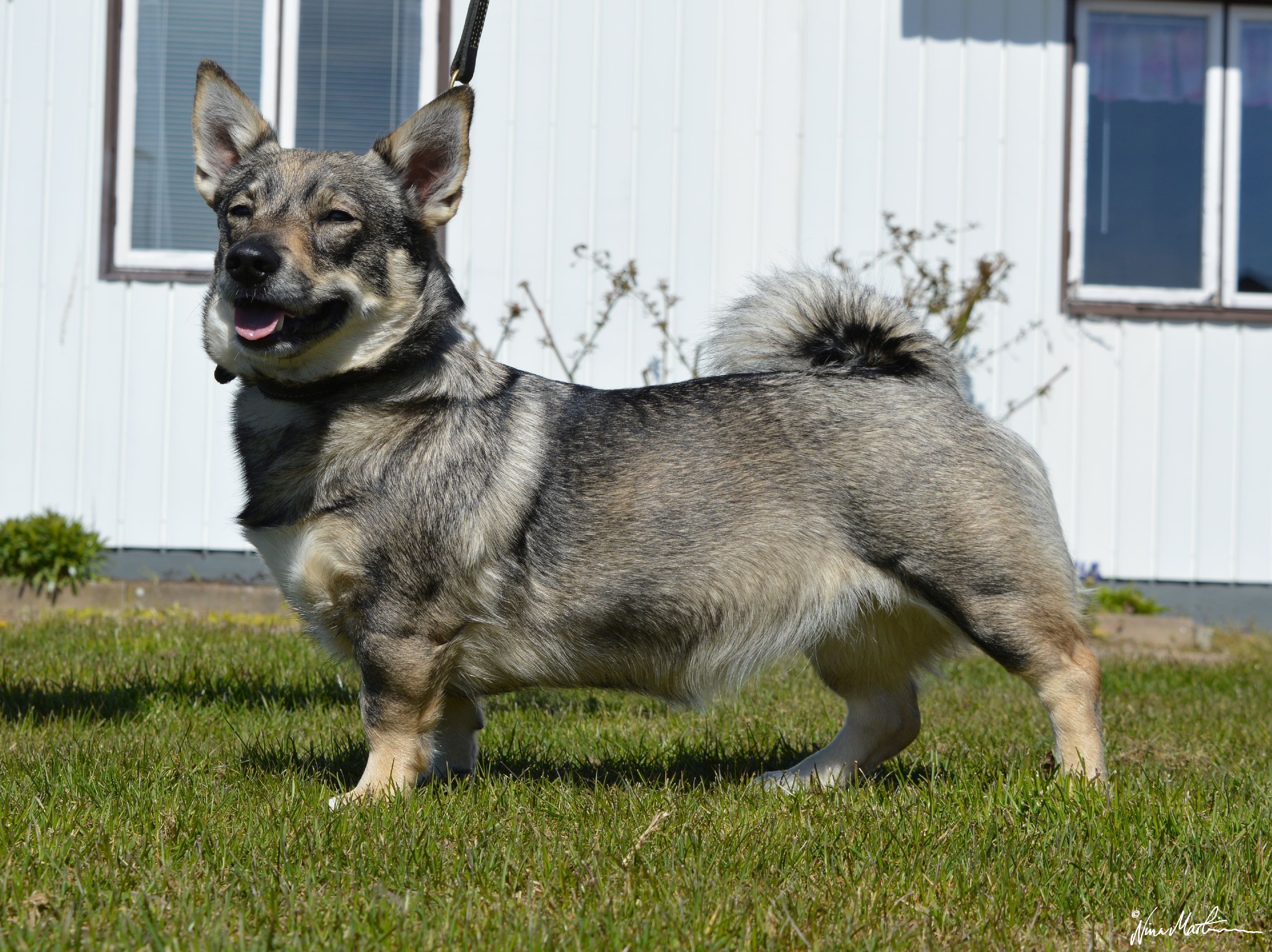 Now we are waiting…
May 24th   Incredibly big – 70 cm around her waist!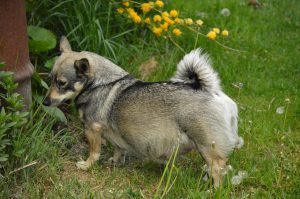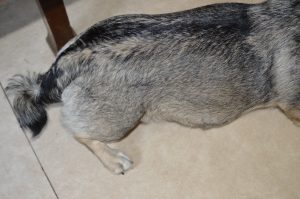 31/5   The waiting is over. Yesterday the puppies were born. At 3 am Jeanne told me she wanted to go out. Inside she wanted to join me under my blanket and soon I was soaking wet – the water had broke. I changed into dry clothes and we went into the kitchen. At 4.55 the first puppy was born and 25 minutes later nr 2 arrived. Then she gave me time for a cup of coffe, much appreciated 😉   At 6.15 it was time for next one and 20 minutes later nr 4 turned up. Just 10 minutes later nr 5 popped out and 7.00 the last one was born. Considering the size of Jeanne I was surprised – and grateful – about the nice size of the litter.
Around 10 o'clock my friend Nina Martinsson arrived to help me photographing. I am awful with a camera… Below the puppies are presented with a picture and a little description. They have one part of the official name already, the chosen name from the owner will be added later. To me they are individuals and I can't stand thinking about them as "number X" – they must have names from start!
Tilia – female: 250 g  Small white spot in front,  2 white toes on both front paws, 4 resp. 3 white toes behind (right-left)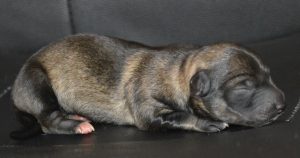 Acer – male: 200 g  Small white line in front, 1 white toe on both right paws,  3 white toes on left hind leg. Bobtail.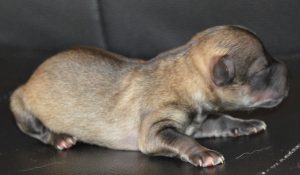 Pinus – male: 250 g   White bib, 4 white toes both front paws, 3 resp. 4 white toes behind (right-left).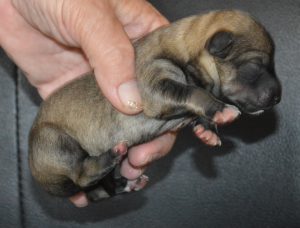 Salix – female: 180 g  White bib, 2 white toes left front, 3 resp. 2 white toes behind (right-left), white trousers.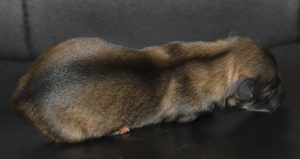 Populus – male: 190 g Small white bib, 2 white toes left front and both behind.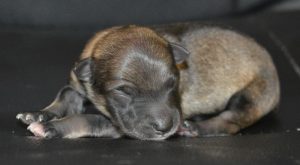 Betula – female: 230 g Small white bib, no white toes.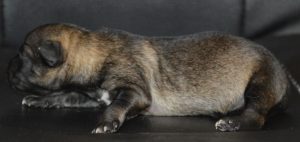 Jeanne obviously has a good milk supply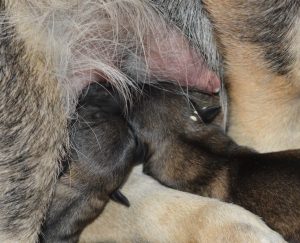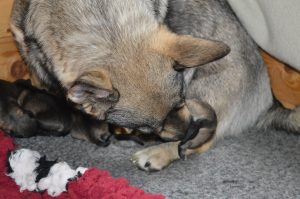 and she takes care of the "remains" after they have eaten 🙂
   Now they have been a week old and Jeanne is very proud of her offspring.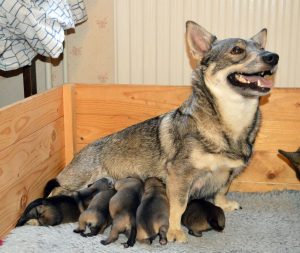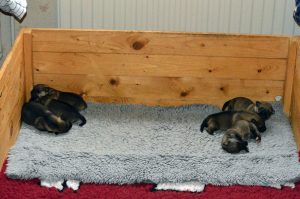 It's cosy to sleep together but they don't want it too warm. 
                                What a sweet face!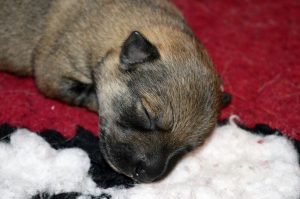 HD helps taking care of the puppies.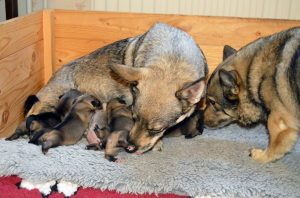 After a well done job it's great to take a run on the grounds.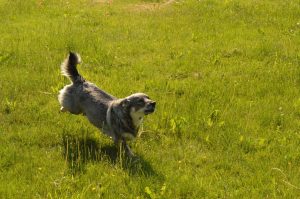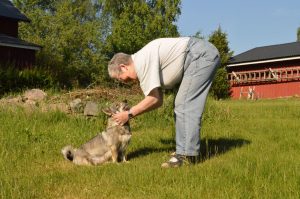 Two who love each other.
Puppy weight

| | | | | | | |
| --- | --- | --- | --- | --- | --- | --- |
| Datum | Tilia |  Acer | Pinus | Salix | Populus | Betula |
| @ birth | 250 | 200 | 250 | 180 | 190 | 230 |
| 1 week | 515 | 400 | 500 | 370 | 400 | 470 |
| 2 weeks | 810 | 670 | 800 | 670 | 710 | 800 |
| 3 weeks | 1160 | 980 | 1140 | 1000 | 1060 | 1180 |
| 4 weeks | 1510 | 1310 | 1530 | 1400 | 1530 | 1530 |
Eleven days old and they start to open the eyes 
Two weeks old and today they have been on small excursions outside the box on a quilt. It was interesting to see how some wanted to follow Mum where she went while others were more interested in exploring.
June 17th
They have cat collars so I can at once see who is who.  Tilia, Acer, Pinus, Salix, Populus and Betula. Nina has taken the pictures.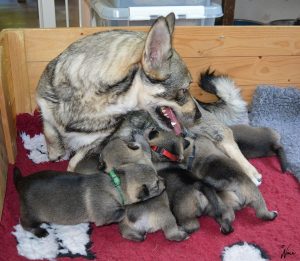 A bit crowded when all want a tit.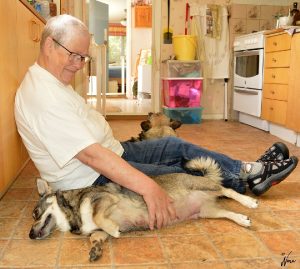 We adult relax in the kitchen.
June 18th
Today they got to try raw minced meat. They all liked it and while I was occupied with Pinus Betula found the plastic cup where the meat was stored. I found her with her head down serving herself 😀
June 20th
All  have passed 1 kg. They are getting teeth and have had their first pedicure. During the day they are free in the kitchen but prefer to stay on the quilt I placed in front of the box as it gives more support to the paws. Night-time they are confined to the box so Jeanne can come and go as she likes with out the puppies disappearing into the rest of the house. 
June 21st
Today they tasted crème fraiche. They liked it and showed that they can not only such but lick – all to get some extra nice stuff.  ?
June 30th
Nina has taken new pictures. The puppies grow and develop. They have tried more things and use more area. They play with each other and with their toys – it was exciting when the tunnel arrived!
Maybe I should explain the names. As the male is the one who sets the theme for name-giving I decided to use the latin names from different trees. Thus:
Tilia = lime tree; Acer = maple ; Pinus = pine; Salix = willow ; Populus = aspen and Betula = birch.
July 19th
A lot has happened in the life of the puppies. They have access to a larger area – one more room and on days with a nice weather they spend time outside in the puppy park. Today a helicopter flew above the village but not even when it passed right over our heads did they care about it. They have met the vacuum cleaner up close – they thought it was a bit strange so they did not go up and say hello but they did not panic either, They did not like my big mower when I rode it just outside their puppy park when I was a bit away they didn't care.
They have been in my car and they did not say anything along the ride! Then I carried them in and placed them in the show cage I already had placed in the waiting room at the vet and they stayed there for about half an hour. They protested a bit in the beginning but as nothing dangerous happened they fell asleep. Then I took one after another, placed them on the table where they got their ID-chip. The females also had samples from the inside of the mouth taken for DNA-testing. Not even then did they protest!
They have been introduced to another västgötaspets – Lycke from my litter in 2016. They really enjoyed that.     
The pictures were taken July 11th.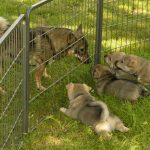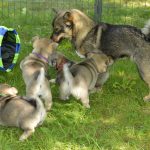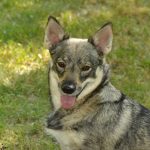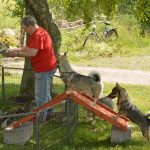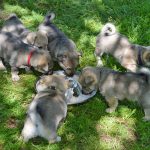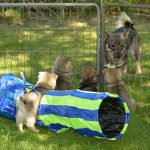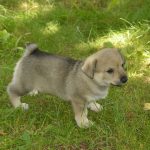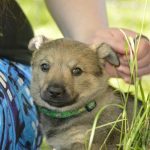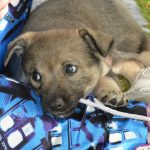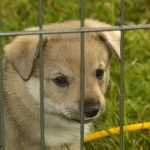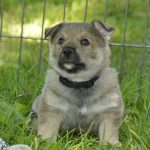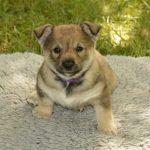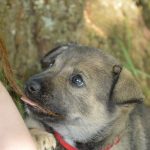 August 3rd   Today the results from the DNA-tests arrived. Tilia has double defective genes. Salix is a carrier i.e. has one of each and Betula is clear. Not much to speak about as the dogs rarely get visual problems – and they can be due to large number of different reasons. But since there has been a semi-hysteria I decided to know the status of the bitch I would keep. And when the samples were taken I had not yet decided which of them I wanted to keep. as it turned out I had taken the winning ticket.
August 4th   The first puppy leaves for her new home. Lisa came to pick up Tilia who will live in Molkom, Värmland. Quite fitting as that is the part of Sweden where I met my first västgötaspets. She will have a super home and I wish you much happiness together.
August 29th   Lars & Eva have recently lost their previous västgötaspets from Hed's kennel. Lars had called asking if I had any puppy not spoken for so this day Pinus – left  as nr 2. They live on this side of Borås so it is a bit far from me even if it is not as far as Värmland! According to our contact the next day all worked out well and he is behaving. It means a lot to get news from those who have left! 
Tilia has sent greetings from her work together with her mother.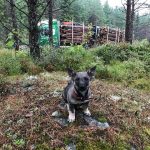 The day after Pinus left another couple arrived to look at the dogs before thieir decision. A couple of days later they called and said they had made up their minds and they wanted Populus.
September  6th Bettan and the two going abroad had their rabies vaccination and Populus aka Poppe had his veterinary checkout. And the very next day Bo and Majlis came to pick him up. Poppe too adapted to his new home directly.

Some mixed pictures (first three Fidel):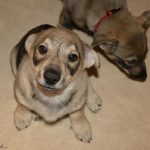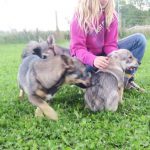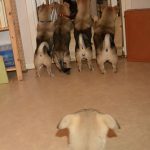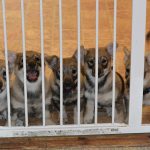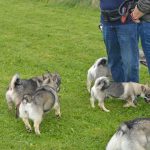 I start feeling that my home is almost empty – just one adult dog and three puppies. But it also means that I can bring out alla dogs to the entire area and still know where everyone is. We all enjoyed that.
A couple of trips to Tingsryd to walk on leash in the market-place and enter the horse shop has also been done. All puppies had had at least one trip and the three remaining several. On top of that we attended the gathering for västgötaspets at Storegård in Skåne September 17th. That was an adventure! First 2½ h in the car getting there. Then 2 h together with at least 60 other dogs (all off leash!) – one of them from my litter 2016 ?. And we had thunder something the puppies hardly noticed.
Next stop was a visit with my previous puppy buyer to help her trim the nails of her two dogs. The puppies stayed in the yard while I went inside to do my job, have dinner and a nice talk with my friend. After about an hour we returned to the car. We were all tired when we got back home.