As the daddy is called Castor (one of the stars in Gemini) it had to be names for stars/constellations for this litter. They were born January 23rd 2009.
          Sire: Stenrikas Charmige Castor                               Dam: Lill-Tegens Tuva Tusensköna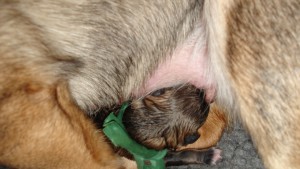 First out in this litter was Bellatrix a bitch with long tail. She was born in our bed.  


Soon after Lyra was born. A bitch with a bob tail and she was to be mine!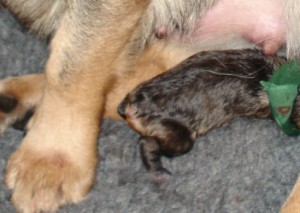 ,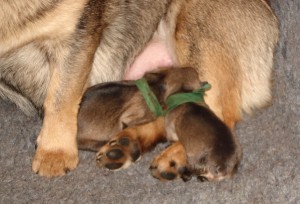 To cuddle with mom is heaven!
But no happiness lasts forever. Read about that on Thoughts. 
28/1 2011   Two days and two nights with Bellatrix under the shirt to my body and feeding every hour did not help. In the wee hours and the morning she grew more and more passive. The only thing I could do for her was to let her end. Now she is buried in my favourite flower bed and all I do is crying. I so wanted her to live. Four and a half days I had her but she will stay in my memory. You are now in the dogs Heaven my little Trixie. 
But I still have some pictures …
Lyra 16 days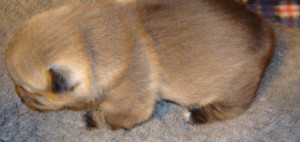 I want to stand up!
   On her own legs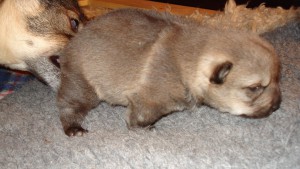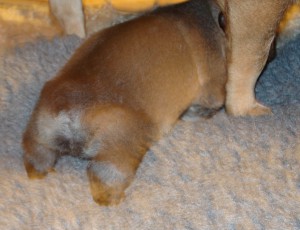 I can walk myself!
Mummy disturbes the sleep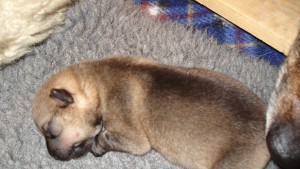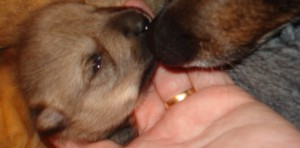 Then I get curious
Four weeks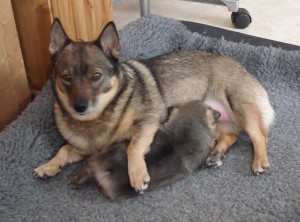 Mom's beverage is good!
Tuva & Lyra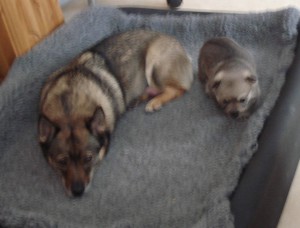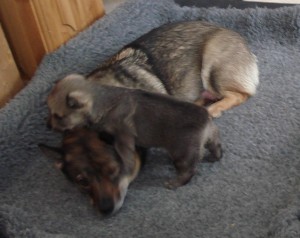 The shortest way is straight across …
Five weeks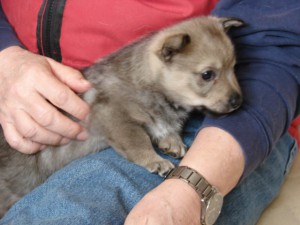 On outlook
SO cosy!!!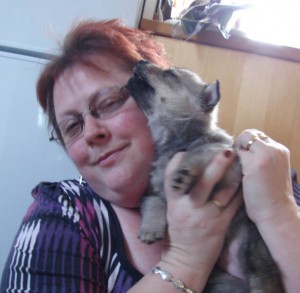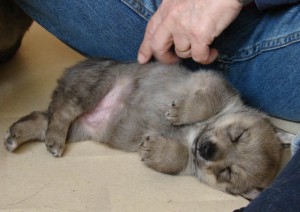 You do get tired from visitors.
When Lyra was seven weeks she already had started to tell me when she was hungry and when she had to go out! Of course she had to get out fast when she had been sleeping but on other occations she whined to tell me "I have to get out to to pee!" She is good at coming when I call her as well. 
Ville was her favourite toy – pulling at his tail was really fun! Ville didn't quite agree but used some bad language  – except when he was eating. Then he looked at me asking me to "Take her away" so I had to do that. He had to have his peace to eat.
At the age of three months Lyra was as tough as they make them and loved to hang onto my jeans. I did not like that but told her the jeans were mine – poor girl I was evil. We spent a lot of time outdoors but as I had a lot to do taking care of all dead leaves she was left to play with her older siblings. They fought over the things, dug in the garden (in spite of me saying no) and fooled around. Lyra did not accept that she was a baby!
I the evenings when I went upstairs she started to follow me. Not funny when she had to taste all the cables …
The nights were worst of all unjustices. Tuva and her siblings were alllowed inour bed. Only Lyra had to sleep in the dog bed beside us until her legs were strong enough to jump both up and down. Rest assured that Lyra objected to this unjustice
 Lyra's adventures as adult is presented on her page. Our dogs – In loving memory – Lyra.