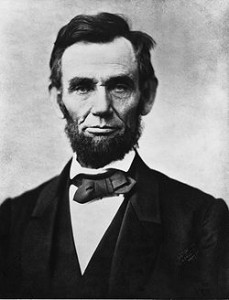 DOB November 13th 2010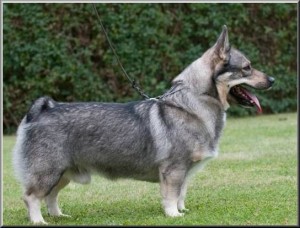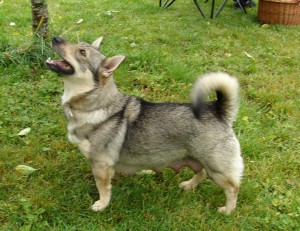 Sire: Pihlspetsens Abbe                                        Dam: Duritzans Beatrice
To me "Abbe" = Abraham Lincoln so the names were to be of presidents!

First out kl 02.15 was Chaim, bob male 216 g
Second came 03.05 Tarja, bob female 180 g
Third 03.15 was Urho, long tail male 230 g
Fourth came 03.35 Golda, bob female 138 g
Fifth born 04.00 Nestor, long tail male 195 g
Nr six was 04.15 Vigdis, bob female 180 g
Seventh at 04.40 Franklin, long tail male 200 g
Eighth was Mario kl 05.30, stillborn tail male 206 g
Last one out 07.00 Vaira, bob female 220 g
Chaim was the name of two Israeli presidents; The word means  "life"
Tarja is the president of Finland since 2000
Urho was the president of Finland 1956-1982
Golda was prime minister of Israel (cheating a bit with this) 1969-1974
Nestor was president of Argentina 2003-2007
Vigdis was president of Island 1980-1986
Franklin was the name of two American presidents: Franklin Pierce (1853-1857) and Franklin Roosevelt (1933-1945)
Vaira was the president of Lettland 1999-2007
(Mario was the president of Portugal 1986-1996)
,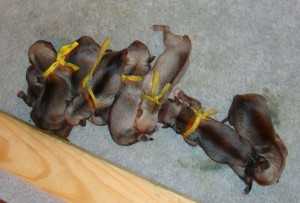 All of them in the box
Sunday 14 nov.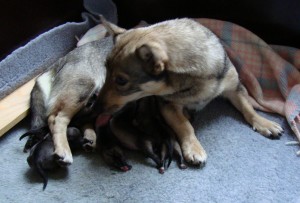 Bea cares for her babies.
Thursday 18 nov.
In the morning Golda was dead in the box. Sad but not unexpected as she lost weight the first two days and only gained some (22 g) since birth.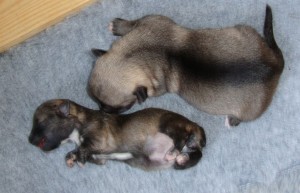 The difference in size is obvious – Golda and Nestor.
Friday 19 nov.
Today Vigdis was dead in the box. That was a chock. She had good size and gained weight. Yesterday she was 286 g. I don't understand this.
To the vet in Nybro who examined both Bea (real thorough) and checked the puppies. Bea was put on antibiotics and will go back for check-up on Monday to make sure she does not have a diabetes that is not visible on the tests yet. I am happy they care so well for her. 
Friday 26 november
After almost two weeks of trouble (more about that in Thoughts) things take a turn for the better. THANKS to our vets! <3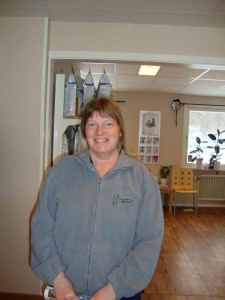 Ann-Charlotte Palmgren in Nybro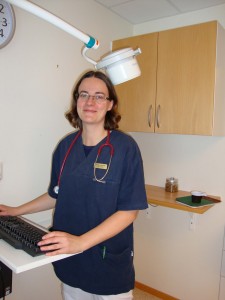 and Annika Karlsson in Läckeby and their nice and helpful workmates. 

Here we are waiting for answers to the tests – the pups under a heating lamp so they will not get cold.
Back home when the puppies had been weighed they got new collars so I easily can see
who is who.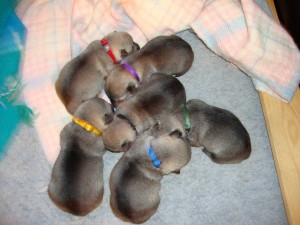 The beautiful collars are a gift from the Schön family in Kallinge. Thank you! 
Tuesday 30 november
The pups have opened their eyes. And started to play with each other.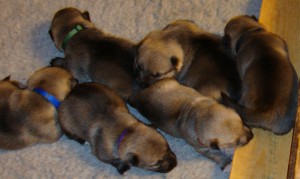 Nestor gives his sister Vaira a kiss.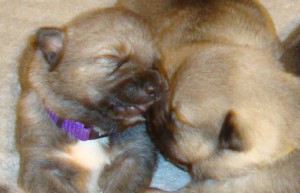 Sunday 5 december
First thime they get anything else than Bea's "home brew".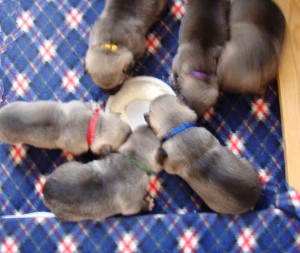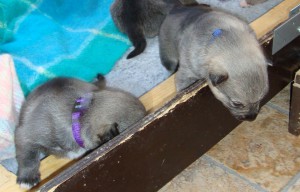 Both Nestor and Franklin are curious about what is outside the box.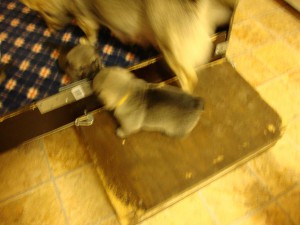 Vaira has succeded in getting out of the box
        .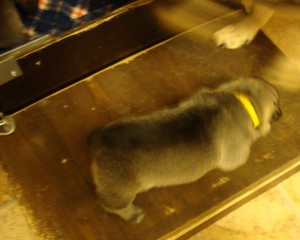 … and wants to see what else there is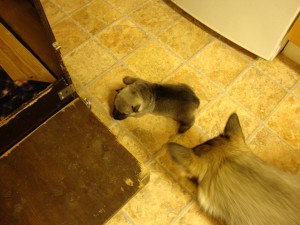 … oops the floor is slippery.
Good thing I was around to put her back into the box. 
Saturday 11 december
Today the pups are exactly four weeks. They were allowed to play on the floor for the first time yesterday and they found it exciting. Today they were in a hurry to get out again to continue exploring the surroundings – mainly the kitchen. Some of them made a short visit to the dining room. 
Tarja examines the food with her paws.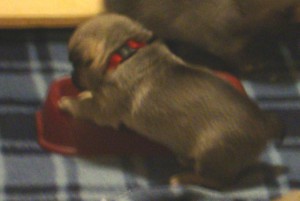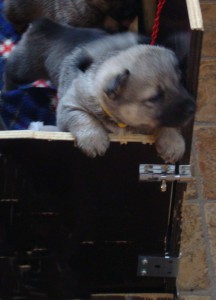 Vaira has decided on an expedition!
      Franklin walks into the dining room with firm steps.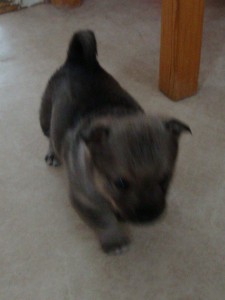 Wednesday 15 december
Suddenly I realized that almost half of my time with the litter already has passed. Now is the time they start to show their different characters. Now I can play with them. They are so charming. Tarja climbed over the hightend box front the other day so now they have access to the entire kitchen around the clock. Two of the boys are already spoken for and I think they will have really good homes. Lyra shows her talent as "playleader" for Tarja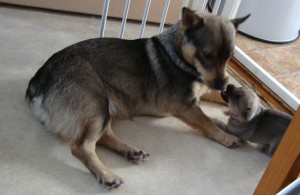 … and Tarja is no a bit shy.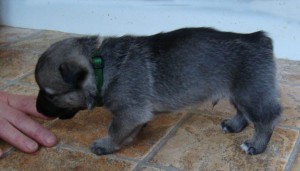 Chaim examines a finger
… after that he wakes up Vaira.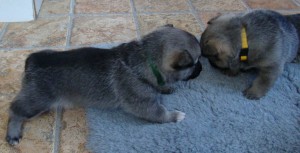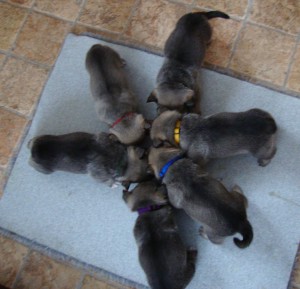 Minced meat! We never had anything as good as this before.
Monday 20 december

Chaim is the most cuddly of them all.
Franklin and  Vaira are the two explorers. To them obstacles are made to overcome!
Nestor and Urho are a bit more careful meeting a new environment and take time to check that it does not contain nasty surprises bofore they play undisturbed again.
Tarja is a real quicksilver. Always on the go.
All of them love when I play and cuddle with them.

Sunday 9 januari

A lot has happened since my last update. The puppies have developed and Bea has been diagnosed with Cushing's syndrom. It can be treated but the cost is about 1 000 SEK/month and it can be difficult to find the right amount to treat her. So last Monday (Jan. 3rd) she got her last vaccination. The one against an unworthy life. I miss her very much but the important thing is that it saved her from a treatment that might be as bad as the illness. I will keep her last puppy though. 
The pups now have decided that some time between 7 and 8 o'clock they get tired of beng confined to kitchen and dining room. They insist on getting out to the other dogs. They play and then they go to sleep in the dog bed beside my bed. (The adults are with me in my bed.) But Tarja who always strives upwards has to get up into my bed and after a short while she goes to sleep on my arm under the quilt. Very cosy! 
The temperature outdoors has been more reasonable so the pups have been allowed out for longer periods. Earlier they have been allowed to go just out on top of the stairs. But now they are allowed to play out in the snow! They have had different reactions. Some have hurried out while others have felt the stairs were scary and Urho thought the cold and wet snow was unpleasant. Chaim couldn't wait to get help downstairs but went to the side where he could slide down! When I wanted to bring them back indoors he did not accept that but went into untrodden snow to explore the world. 

 Chaim's adventure in the snow.
Nestor thought Ville's bowl seemed nice. But the empty ring beside it was strange. I had to help him down …
The first pup moved today. It was Tarja who is going to a family in Skåne. They have dogs that can help taking care of her so I let her move (as I think) prematurely. But I am confident that she will have a good home.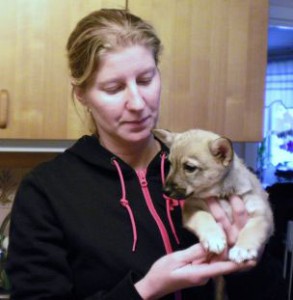 Bye bye brothers and sister!
Sunday 20 mars
TOO much has happened for me to be able to remember and tell it here. All puppies but Vaira (who will stay here) have left. Some things can be seen on their pages. Other things are found in Thoughts nr 8. The pup's future will as far as possible be recorded on their pages. 
The picture of Abbe is by Oili Helenius. The other pictures are (as far as I remember) my own.