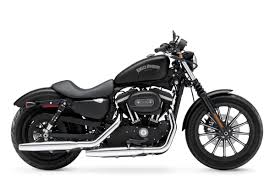 Born May 31 2009 in the ecstacy on Whitsunday at Läckeby animal hospital.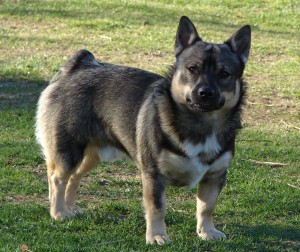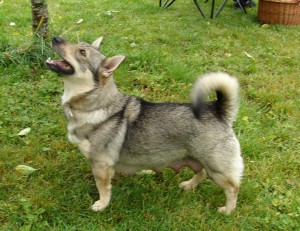 Sire: Stenrikas Karska Knutte                               Dam: Duritzans Beatrice
When dad is called "Knutte" (a Swedish word for motorbiking men) I hade to give the pups motorbike names!
Saturday morning Bea showed me that it was time for the delivery. I didn't get much out of my hands as I checked on her most of the day. During the night I had to call the vet and go for medical help. We had to wait until they finished another bitch who had had a Caesarean and I hoped that the whelping would start.
When Monica (the vet.) examined Bea she was still not open so we thought it was time for a Caesarean. When Bea was all prepared to open the first puppy popped out! Monica called me and we decided to wake Bea and go for a normal delivery. We waited and waited – no labor.
She had a normal Calcium level but none the less when she got extra Calcium i.v. the puppies came rather quickly. They varied in size but alert in spite of the anaesthetic. One was so small that we did not expect a living puppy but she was kicking about when we opened the sac. The last pup was born at half past seven in the morning so we were all very tired as we went to our respective homes.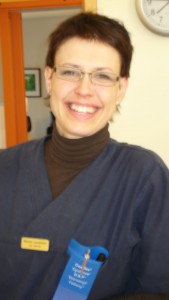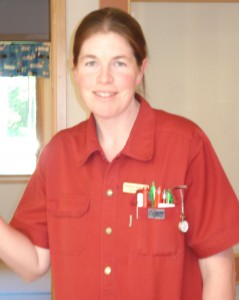 Our vet Monica                               and the helpful nurse Madeléine   
Back home I tried to remember in what order the puppies had arrived and what name they had got. I put them on a scale and gave the smallest one some extra to drink before I went to bed for some hours of sleep.
I must admit that I had hoped for a smaller litter. The poor Bea has to take care of them and I feel a bit sorry for her. She behaved as the perfect mother and took good care of her babies.
About the litter:
Matchless bob bitch   153 g
HD bob male    208 g
Norton bob male    140 g
Nimbus long tail male   137 g
Ossa long tail bitch    84 g
Ducati long tail bitch  197 g
Yamaha bob male    160 g
Hederson long tail male   218 g
Sunbeam bob male    134 g (born in the sunshine in the morning)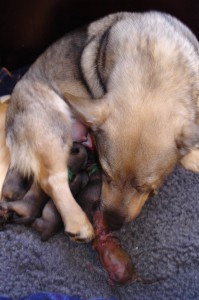 Back home Bea took care of her puppies. 
June 3 Now they are only eight. Ossa didn't make it. It was no surprise but none the less sad. I buried her next to Bellatrix (from the star litter). The rest of them eat and grow!
Looking at the difference in size I can understand that Ossa didn't make it.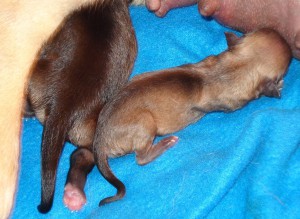 One week
They eat and sleep and are pretty happy about their life. They weigh more than twice as much as when they were born.
A picture of the entire litter. I can't tell the order of them.
A bit over two weeks – first time in the grass!
The weather was very nice June 16th so I took them out for a short while and they enjoyed it.
                     To the milk tank!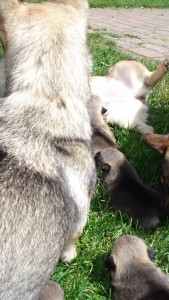 Three weeks and they try out some new food.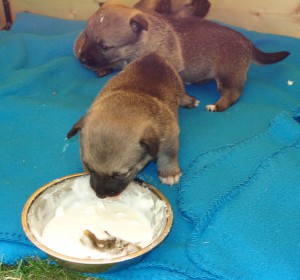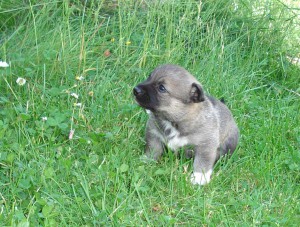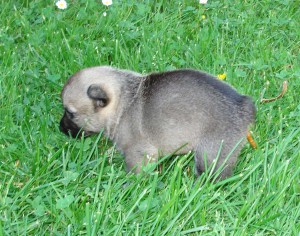 June 29 I took out the puppies one at a time to see how they reacted. 
Matchless went away about 1 meter before she turned back to me. 
HD was a cool fellow. He went further away but took his time. 
Norton felt it was safest to stay with me or Bea. 
Nimbus played happily .
Ducati went off after a bumble bee and played with Lyra. She was moving fast. 
Yamaha preferred to stay on my lap.
Henderson was both curious and social. 
Sunbeam wanted to either eat or be with me.

As the weather still is nice the puppies spend most of the days out. They seem to eyjoy it. They play and sleep but when they hear my voice or see me near them they all come to cuddle and play. 
What a luxury spending hours every day with the puppies and still call it my job! 
June 30  It is hot and the pups were panting so they went into the sink to get some cooling bath. They did not like that…
After that they got collars. They liked that even less. But trying aunt Lyra's food was exciting! 
Five weeks and they have started on dry food. The puppy food was not good enough. The other dogs' food smelled much nicer. As that food was of much bigger size so I had to smash it into a smaller  pieces. But then they eat happily. They are starting to show their different personalities and play a lot together but as soon as I show up they gather around my feet.
The neighbour's children come and the puppies get used to being cuddled from other people as well. The Pigney family (who is going to have Matchless) have decided on a call name and I will add that to her formal name: Duritzans Matchless Maizey.  Ducati will be Duritzans Ducati Zsa-Zsa (for Zsa-Zsa Gabor). The others have no call names yet. 
Six weeks 
The puppies are playing with a lot of energy. To save my feet I have given them toys but the adult dogs carry them away. So I got some new toys and some chewing bones and attached them by strings to different places in the kitchen. They really liked that!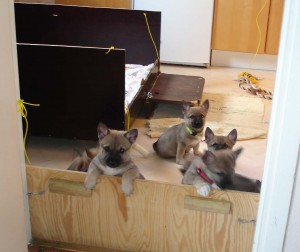 Matchless Maizey prefered to get to the other side where we were…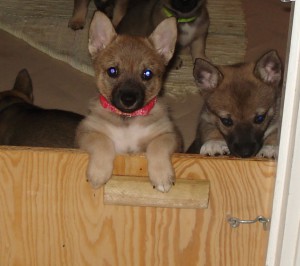 Seven weeks and we have developed some routines. Two things put limits to what is possible to do: 
When dry food is served the adult dogs must be out of teh way or they will take all the food. 

I am tired in the mornings so the day does not begin seriously until after ten o'clock. 
About 5 o'clock in the morning the dogs wake me up. First I let the three adults out. Then I clean up the kitchen for the puppies and sit down on the floor playing with them before I feed the others. After that I go back to bed. 
By 10 o'clock I get up, clean the kitchen again before we have breakfast. I read the paper and the minute I put it away all the dogs get eager. They know that NOW is the moment it happens. They all get out! 
I carry the puppies out to their play-pen in the garden and place the bowl with food in the middle. Within 10 minutes I can pick up 8 small heaps – they are really good at that! They protest when I pick up the bigger heaps from the other dogs – they want me to be with them in the pen. 
Whe all the cleaning up is done I spend an hour or two with the puppies. They play, chew at me the food and each other. When they get tired I have my afternoon coffee and then we start all over again if the weather is nice. If not we play in the kitchen. 
Now Bea's milk is just some extra. The main food is the dry food. 
Matchless Maizey
A lovely little whirlwind, very aware of her charm. 
Harley-Davidson
Totally convinced that he is to be my dog. I am not that convinced. A boy who feels there is nothing in life that he can't master. 
Norton
A calmer and more careful young man. Even if he sometimes plays with the others is he often happy to just cuddle with me. 
Nimbus
Full of games and pranks but sometimes he cuddles with a kind look and his eyes fixed on mine.
Ducati Zsa-Zsa
Full of energy and always up to something. A real beauty who challenges the boys.
Yamaha
Next bundle of energy though he has settled a bit the last week. Next to Maizey the smallest one. 
Henderson
The pup most interested in serching human company. 
Sunbeam
Fulfills his name – he really is like a sunbeam! He wants contact but without being pushy. If you are in the middle of something he is happy to enjoy himself. Otherwise he wants to play and chew on my hands.
Eight weeks and Henderson (aka Nelson) and Nimbus have moved to their new home. Fewer pups to look after but also an emptiness. Now we work on control of biting – they are allowed to grab hands and other parts of my body but not bite. Lyra works on teaching them to behave. If they are allowed out in the garden they follow me – always close to my feet.
Nine weeks. Now Maizey had moved too. And Tuva has returned home after six weeks vacation with the Pigney family. The pups are now walking from the kitchen out into the garden when I remove the gate at the door. They are awake longer periods too. 
Ten weeks and they took part in the birthday celebration Their mother and uncle will be three years on Tuesday and grandmother Tuva and her sister Milla will be six years on Friday. Both birthdays are celebrated at the same time and all nine dogs went on a short walk in the forrest. It was the first walk on leash for the remaining three puppies, Zsa-Zsa, Sunbeam and HD. Zsa-Zsa didn't like it much in the beginning. Sunbeam went pretty well but wanted to be carried the last part. HD walked on leash as if he had done it all his life.
Now as they are bigger and fewer all seven are free in the garden with me except if I have to focus on a job. Then the pups go inte the puppy-pen so they don't disappear or get hurt. They are very good at keeping track of me and coming when I call. 
Twelve weeks. Now Zsa-Zsa too has moved. I got a call next day and she had settled well. But I had to count the dogs twice before I understood that I didn't have more of them. So few – only six dogs 🙂  Now Sunbeam, aka Sunny, is the only one who is going to leave. Nobody but my sister who has no time for a pup has been chosen by him. Unless he does not find a family soon she will come to pick him up as she wants him and he did all he could to convince her that he was her boy. We will see what happens. He is easygoing so it is no extra trouble of having him around.