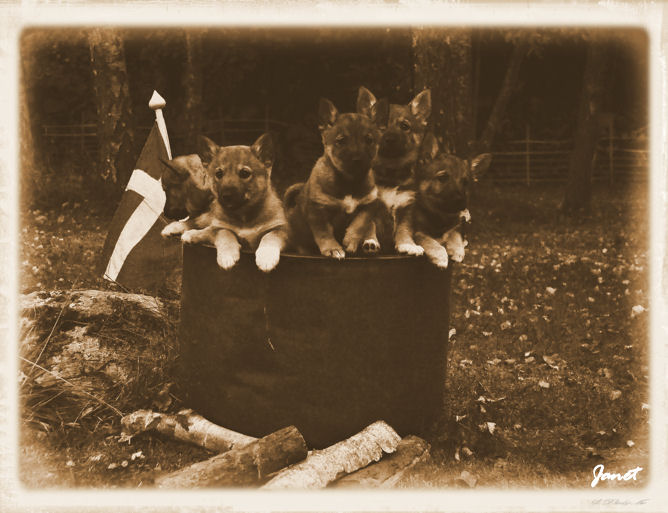 It may seem strange to give the name of Lycksele (a city in the far North) to a litter born in Småland. Of course there is a reason for it. The mother of this litter is Brisa – a bitch born in Blekinge now living in Lycksele. I have been trusted to borrow Brisa for this litter so I wanted to thank her breeder and owner Birgitta & Per-Olof Schön by giving the litter the name of there home town. 
DOB 26 juli 2016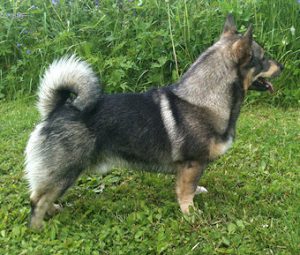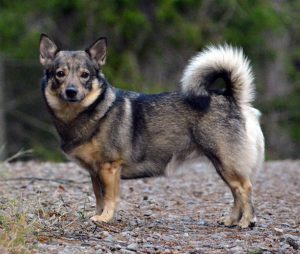 Sire: Svedala Ragnar Regnskur                                      Dam: Brisa  
At last the puppies arrived. The first one – Lyckobringaren popped out at 21:05 closely followed by Lyckoslanten 21:16. The biggy in this litter took his time so not until 21:44 Lyckoklimpen came. Just 10 minutes later Lyckeliten arrived (he has a song of his own ).

After that nothing happened for two hours and we thought in surprise that in spite of Brisa's enormous belly obviously there were but four puppies. nina packed her camera and went home while I gor some rest in front of the whelping box. a couple of hours later without any signs of activity but for the puppies eating I went to my bed. About two hours later I was up checking on Brisa and her pups and found two more – two bitches. One was dead at put aside. But Lyckeli has a strong wish for life.
These names cannot be explained as they have a special place in Swedish folklore.
Pictures from the whelping can be found here.