Duritzans Vergilius = Ville
DOB 11 aug. 2003
moved to Solveig Granfelt Nov. 8th 2012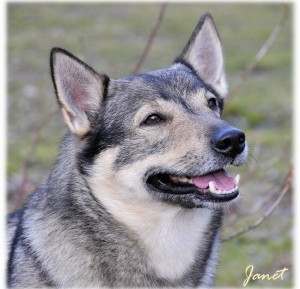 Ville is the first born in the Divina Comedia-litter. He has been training together with Bea and achieved the "passport of everday-obiedience". He has also been on shows a couple of times. (See Results).  MH-results and protocols from test in cattle tending are to be found on Other results. Alas all results are still only in Swedish.
Ville loves the agility course – somtimes I let him jump some fences as a reward for good work at the training. as we start towards that partof the field he is jumping high from sheer joy! He is also very easy to train and thus a very easy dog to have. He has a sensitive ear and is willing to work hard. But he can relax as well. At home he has an extra name – when he is ploughing his way over everything and everybody he is called "The Torpedo".
When he was younger I had to give the other dogs separete bowls or he would eat most of the food. Now he is in no hurry eating – except when they do the "first washing" of our plates. The teenager's toughness is now gone and he knows he is a man.
He is unbelievably devoted and follows wherever I go. Sometimes I even believe he is religious but it is demanding to be seen as his God…  When we go to sleep he wants to lie between our pillows, preferrably with his nose on my shoulder.
His patience with his younger sister Lyra is fantastic. You might think he is a trained "play-uncle"!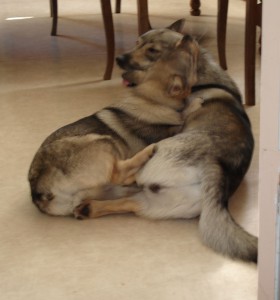 He is simply a dog to make you very happy.
When the bitches are in heat Ville is generally with his aunt Milla (Lill-Tegens Vega Vippmålla). The youngest daughter in the family loves Ville and he loves her so I can leave him there in good conscience. He even gets to sleep in her bed – without other dogs competing for space! He gets long walks as well – something his mistress is not so good at…
Ville has got an extra job that he finds entertaining. He is pulling a little cart. In the summer of 2010 I had my youngest grandchild here and tried to put her in the cart. I never thought that he could pull her. But he did and enjoyed it. Even so fast that we had to stop him to get a decent picture!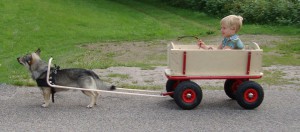 Tånga Hed 2011
Ville has rarely showed himself so decently.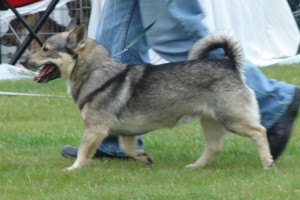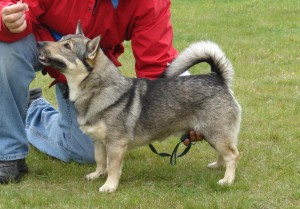 He could even remain standing – salami can make a big difference!  
After my husband died Ville felt he had to take the responsibility of keeping all of us safe. As that was a bit too difficult for all of us I was happy to give him a new start with an experienced breeder in need of a new dog for company.