Jeanne d'Arc-Joyau van de Kloostertuin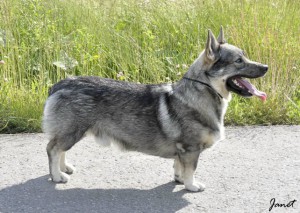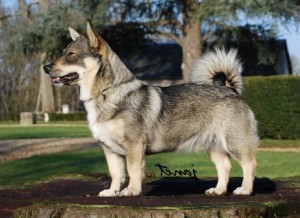 Sire: Sänningegårdens Ilos                        Dam: Crème de la Crème v/d Kloostertuin

Jeanne is a dog where I have been part of the process from the beginning. Janet never wants to take more than two litters from a bitch, but she made an exception to give me a bitch to continue my kennel with when I stopped my line due to four cases of Cushing. There are no words to describe my gratitude for all she has done for me! <3
I feel it is significant that Jeanne is born on the same date as Tuva – the dog who is the reason why I started breeding! As a bonus I got to know the entire family of Jeanne and Janet as I went to Janet by end of September to chose which of the bitches I wanted and stayed until beginning of November when I could bring Jeanne home to Sweden.
This far Jeanne has given me everything I had hoped for and then some. I have had many good laughs. She plays often – sometimes with the other dogs but just as often by herself with some toy. She is quick in learning what I want her to do. I have yet to start "educating" her but so far I only try to raise her properly. But sooner or later I will find some kind of  "work" for her.
End of August 2015 she went with me to Denmark. I was going to describe some Danish dogs. When we arrived she thought it was a bit scary being met by seven västgötaspets standing in the doorway to examine the visitors. She did not have my other dogs to support her. But soon enough she felt at home. The entire Saturday she was free to walk around but she was never far from me. The perfect dog – she checked on me instead of the other way around. <3
We  have been to a couple of shows as well. She is almost a copy of her mother – just a bit better! 
August 6th 2017
The litter has been born and presented on its own page since June 2nd. When I added the results from the DNA-tests of the female puppies I realized that I never wrote about Jeanne's result. I tested her soon when the test was available and it showed that she is a carrier = she has one defect and one good gene.
Jeanne has been a very good mother and has also raised the puppies really well. I am extremely grateful to Janet for giving me the chance to have this fabulous dog!