Lill-Tegens Tuva Tusensköna
14 aug. 2003 – 4 aug. 2017
moved to my sister Loulou June 5th 2014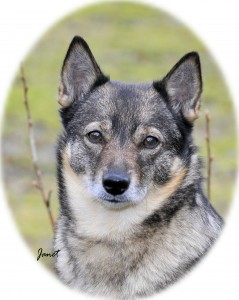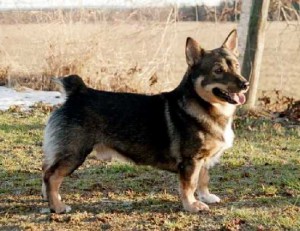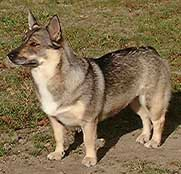 Sire: Grålötens Yngve Yfront                                 Dam: Dangas Cruella de Ville-M
Tuva came to us on a beautiful summer day. She wasthe  first "vätte" I had bought since my beloved Busis died about 30 years earlier. To compete with the memory of Busis was a hard task, but Tuva was greater than I could dream of. She immediatly placed herself in my heart and she has remained there. She brought happiness into our home as no other dog has done.
Tuva has an incredibly expressive face. She is a happy, loving and energetic dog full of pranks. Everything has to be explored and it her mistress fells it is not necessary to explore the forrest right now she gets deaf in a hurry. When she has done her findings she returens home – after a couple of hours! She has had fun while her mistress' nails have been bitten down…  Between the expeditions she is perfectly obedient.
Her appearance is lean and lithe. The judges sometimes call it "thin in bone" but it tolerates jumping out of a window about two meters down followed by an "unauthorized expedition". I prefer a lithe dog before a "block", but that is a matter of taste. Her offspring have not inherited this configuration. The only time she shed hair was when I gave her a different kind of food, otherwise she doesn't shed more hair than her master and mistress.
The year before Tuva came to us I was ready to get a Swedish Vallhund, but my husband said "It's enough to have ONE dog in the house". Well you have to decide together so I had to wait. Then out dog died and Tuva moved in. After a couple of weeks I realized that I just had to have a pup from her as a safety if anything happened to her. To my great surprise my husband answered that it was OK. Soon we had three dogs and I wanted another puppy. So what did my husband say? "Three or four doesn't matter. They are so easygoing."
Tuva and her offspring have conquered not only my heart! Even my brothers in law who normally not are very fond of dogs love Tuva. She is simply so charming that it is hard not to love her.
Tuva has had two planned litters. They have their own pages: the Divina Comedia-litter 2006 and the Star-litter 2009. Add to that the litter she decided alone – the Thief-litter 2013.

She is a devious little bitch with a mind of her own :). When she realized that I had decided that she was too old to breed from (she was 7 years at that time) she went behind my back and got pregnant with one of my boys  – her son or her grand-son, I don't know which at the moment. She hid it well so I did not see what was coming until it was too late to stop it. She needed a caesarian but was fit enough to jump fence four days later! She had three boys and one girl. So far they all look healthy and fine. And I will have them all tested to find out who is the father.  It turned out that the culprit was her son Ville.
I did not want this to happen again so she moved to my sister who loves her dearly. Tuva really enjoys her life as retired and she works miracles for the quality of life for my sister and her husband!
At the age of twelve she is still in good condition. At the big show in  Stockholm December 2016 she was placed second in the veteran class with Nora Supernova as winner – all veterans but Tuva were champions!  My intention when I entered her was only to show how agile our oldies can be – she never did too well in shows. This time she got Excellent and her first ck!!
4/8 2017  Tuva was bleeding again after she had finished her heat. Loulou called me yesterday evening and after that the vet. So today they went to the vet who confirmed that she had metritis. Surgery would cost more than 30 000 SEK (plus the costs for getting a diagnosis and complications that were likely as she has Cushings) and would probalbly not add more than maybe two years to her life. We decided together that it was better for her to go down before more illness and other problems hit her. First they went back home to let the rest of the family say goodby to Tuva, let her have all she liked, carrots and liver sausage etc. After that back to the vet to give her a death without pain. separate cremation so she will be laid to rest between two of her children Bea and Nimmo.