Duritzans Harley-Davidson = HD

DOB 31 maj 2009
HD moved to my sister Loulou when Tuva left us in 2017-08-04. The plan was that he would not move for the next few years. But …
HD is the first-borne male in the MC-litter and his first months is presented with his siblings on the litter's page. There was no way I intended to keep anyone from that litter, but I had not counted on HD's own ideas. He made up his mind on staying. He realized that Ville was the alfa male so he made friends with him. He would have been sold anyway unless he was so cunning.
One day when I was out with all the little ones he stepped into the water bowl with his front paws and stood looking for a while. Then he stepped back – looked – stepped into the water with one paw – looked and stepped back. Then he put his nose into the water and blew air bubbles. That did it – I could not part from him.
February 2010 we went to a puppy show. HD behaved better than expected. He was best in his class, but they were only two so it is not much to say about. Just some fun.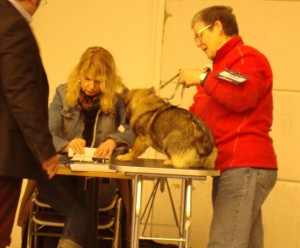 Standing on the table was not something we had practiced as you can see.
But standing still was better than expected.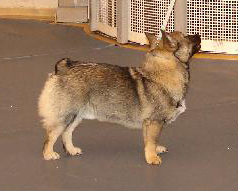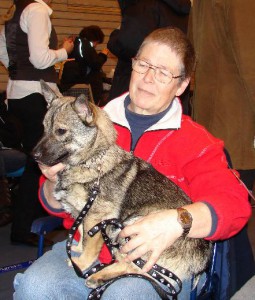 Best was to be on mom's lap – he is a real teddy bear!
Tånga Hed 2011
In competition with 19 other males HD won the open class! OK I think he is great, but I did not expect to get placed. I was almost in shock 😉
He seemed as eager as a race horse…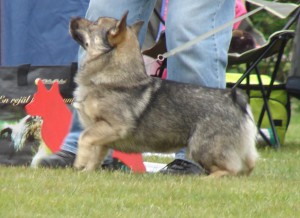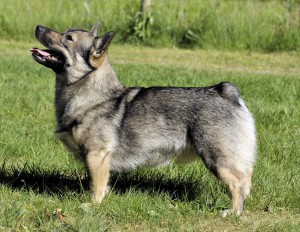 …but this was not about speed but about elegance.
And he had that.
When he got back in the ring with all the males with CAC quality he got 4th place and the CAC! It felt unreal …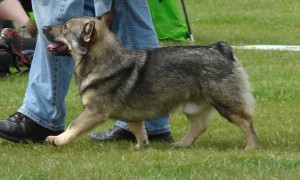 Photo by Janet van Iperen-Hoevens
At the show in Ronneby 2011 there were very few in this breed – only seven were entered 🙁
I had not intended to enter him but when he did so well in Tånga Hed and Ronneby is close to home… So I entered HD just to find out what another judge would say about him.
You have to have CAC quality (ck) to benefit from few competitors. And HD was awarded BOB, CAC and CACIB! Maybe he isn't too bad even if I don't think he is so special.
During the spring of 2012 HD has been on tour with Janet van Iperen-Hoevens (kennel van de Kloostertuin) and won three more CACIBs – two in France and one in Belgium! Certainly in mediocre competition but even so…
During that time I had Janet's Elle-Estival van de Kloostertuin here to show her in Sweden. I had hopes for her to get a Swedish championship, but she was in very tough competition and I am not much of a show girl  🙁
Her greatest achievment was at the main breed show. She was second in the open (19 bitches) and was placed 4th best bitch out of 54 bitches – ten of them already champions! That is something!!!  🙂 🙂 🙂

Two days before she left for home she was at her last show in Sweden. She won her class. 🙂 
But… being a nice French dog she does not like to walk in mud. And this was all mud – that took her chance to get the CAC 🙁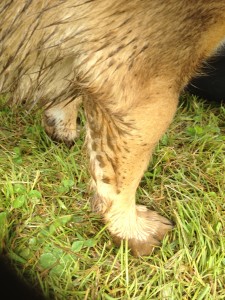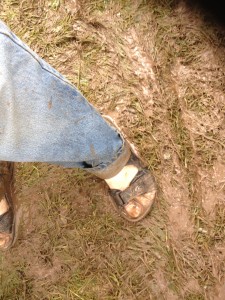 Both her and my feet were muddy.

In 2013 I entered HD for the show in Ronneby. He had a grand final show winning his class, being third best male and winning his third CAC and his final CACIB. So he is now both Swedish and International Show Champion. But the best part is his sweet character – my sweet cuddley Teddy bear.